ANN BRADY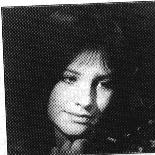 ...a Mohawk-Irish-French singer-songwriter was born in Montreal and got her first guitar at the age of 14 when she immediately began composing. Ann has performed her own material since,on her 12- and 16- string guitars. Ann's areas of specialty include music, written communications and media. Ann is a fine musician, highly commended for her skill in gauging the moods and needs of her audience. The music that she generates , can be classified as "adult accoustic" and Ann's voice has been desribed as being reminiscent of Joni Mitchell. The lyrics to her songs have strong social elements, yet retaining that important personal dimension. Ann says:"My Mohawk grandparents were silenced by assimilation into French-Canadian culture and now, it is my responsibilty to continue as their voice and honour them with a good voice of my own."
My thanks go to Jaya Chauhan for giving me permission to use Ann's bio from the Dreamspeakers Festival Guide.
@ Jaya Chauhan '92
NOTE: Please don't link or copy any material from this site without asking permission!