CLYDE ROULETTE
(Slidin' Clyde Roulette)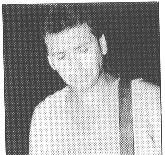 ....has his roots in Winnipeg, Manitoba where he was first inspired to play music. This fiery Blues Guitar Player who is making a name for himself across Canada, is Ojibway from the Sandy Bay Indian Reserve. Clyde is proud of his background. He grew up in Winnipeg and has played professionally for the past 18 years,describing his style of music as "aggressive blues". Clyde has recorded and performed with numerous Blues and Country artists across Canada. He has jammed with performers such a Colin James,Willie Mabon , Carey Bell and Lazy Bill Lucas. At various outdoor festivals, he has shared the stage with artists like Stevie Ray Vaughn, Ronnie Hawkins, Nicolette Larson, Matt Minglewood, IanThomas and others. Clyde has also lived in Toronto and recently moved to Vancouver. His first appearance was at the Yale Hotel as part of a "Blues New Artist Series". That same year he was awarded the "Best Blues Guitarist of 1990."' The Clyde Roulette Band, which varies from 5 to 3 players, has been featured recently on the Canadian "U Tonight" television show as well as the 1990 Stein Valley Fetsival, The Quesnel Native Outdoor Festival and the Winnipeg Folk Festival. The Vancouver Resident has played in the States to enthusiastic crowds,more recently ,aside the Neville Brothers at Sioux City, Iowa.
My thanks go to Jaya Chauhan for giving me permission to use Clyde's bio from the Dreamspeakers Festival Guide.
@ Jaya Chauhan '92
NOTE: Please don't link or copy any material from this site without asking permission!